MARLINK
Your Communications Provider for Safe and Efficient Operations in Harsh Environments.
The Marlink Group is the world's leading provider of end-to-end managed network solutions, offering the most comprehensive portfolio of satellite connectivity services on the market today. We design, operate and manage networks combining satellite and terrestrial connections that scale to fit our customers' operations anywhere in the world.
In particular, Marlink is a long-standing partner for providing tailored satellite communications as well as tracking and safety solutions, to major organisers of high-profile sports and cultural events. We deliver connectivity solutions for satellite broadband access and media broadcast, high-quality voice and data services, terrestrial and airborne radio networks, intercom systems as well as real-time tracking and race management services.
With more than 1,000 employees worldwide, we serve global customers across various segments such as shipping, offshore, cruise and ferry, yachting and fishing, energy and mining, governmental institutions as well as media, sports events and humanitarian organisations.
Communication solutions for sports events
As the leading provider in satellite communication solutions, Marlink helps event professionals work more efficiently and stay connected in isolated areas where there is limited or no access to terrestrial infrastructure.
Tracking & Safety services such as the satellite-based Iritrack or Worldtrack tracking systems and distress beacons, often mandatory equipment to all racers. The tracking devices track the competitor in real-time and enable the transmission of alarms to the HQ in case of emergency. With Iritrack, the competitor can even make a hands-free phone call via the inbuilt voice capabilities. During the race, Marlink's field engineers are in charge of the technical maintenance of the fleet of tracking devices. They also assist the safety staff at the operational centre (HQ), in the field or remotely, in monitoring the race to ensure the safety throughout the event.
Satellite links to enable Internet access on camps to the organisation, competitors and press teams. Our field engineers are constantly on the move as they follow every stage of the race. Each day, they arrive on a new camp and link up VSAT antennas to get the camp connected.
Communication means for voice communications and Internet access in the field in the scope of sat phones, broadband terminals, walkie talkies, Voice over IP, Wi-Fi et WiMAX solutions
Airborne radio networks are deployed to enable voice communications between the field staff and the local control centre. The organisation vehicles such as the medical teams and sweep vehicles are equipped with radio receivers in order to dispatch prompt assistance to injured or stranded competitors.
Formerly known as TDCOM, part of Vizada Group, the company has developed over the years a wide range of satellite, radio & GSM products offering comprehensive communication solutions for data and voice transmissions, as well as fully managed data services for asset and personnel tracking. For example, Iritrack, our in-house designed tracking device, is present on many cross-country rallies worldwide ensuring the safety of the racers with a combination of real-time satellite tracking, safety sensors and a two-way voice communication function.
Contacts
MARLINK Events SAS
114/126 Avenue d'Alfortville
94600 - Choisy le Roi
France.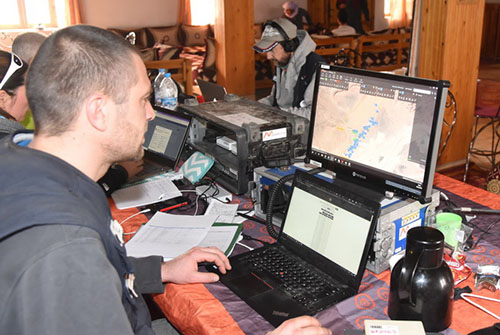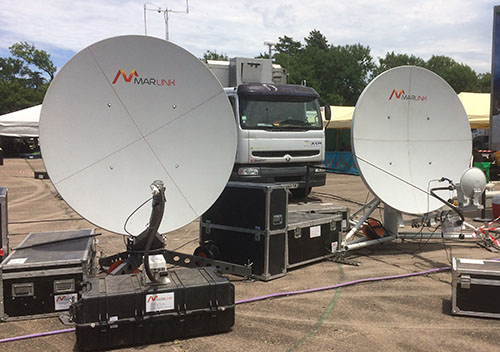 Opening hours
Monday to Thursday: 9-12 AM / 2-6 PM.
Friday: 9-12 AM / 2-5 PM.
For further information about our products, please contact Valentin from the Events Department:
Tel: +33 (0)1.48.84.34.07

Email: services.events@marlink.com